THE MERRY WIVES OF WINDSOR by William Shakespeare
Performed in Regatta Park, Penrith from February 14 – March 22, 2009.
Adapted & Directed by Wayne Pratt
Stage Manager: Sharn Arcus
Lights & Siound: Lara Carbone
Lighting designer: Brett Jeffers
Riggers: Adam Langley, Paul Newton
SIR JOHN FALSTAFF: Pietro Desiderio
MISTRESS PAGE: Rebecca Matthews
MISTRESS FORD: Hala Swallow
GEORGE PAGE: Paul Newton
FRANCIS FORD: Peter J. Stubbs
HOST, SIR HUGH EVANS: Adam Langley
MISTRESS QUICKLY: Linda Stainton
BARDOLPH, NYM: Roslyn Hicks
PISTOL, STEVO: Ollie Ford
SLENDER, THE BARD: Watne Pratt
ROBIN: Mitchell Rist
SHAZZA: Sharn Arcus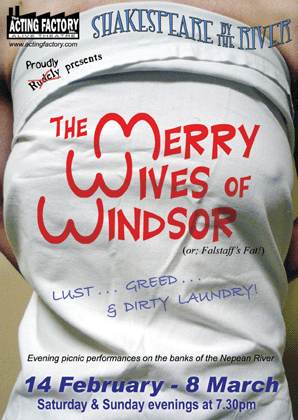 Graphic Design by David Hoey
Photos courtesy John Baltak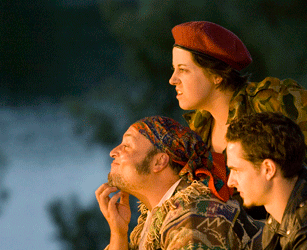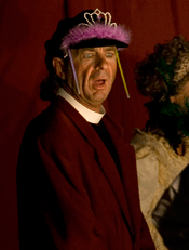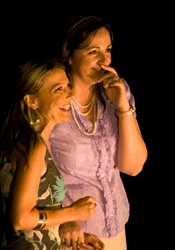 (left) Pietro Desiderio as Sir John Falstaff, Roslyn Hicks as Nym, and Ollie Ford as Pistol, (centre) Adam Langley as Sir Hugh Evans, (right) Hala Swallow as Mistress Ford and Rebecca Matthews as Mistress Page.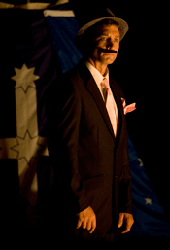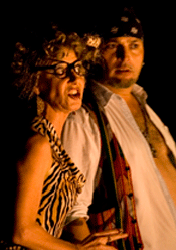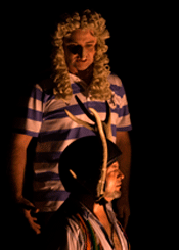 (left) Peter J. Stubbs as Francis Ford disguised as Brock, (centre) Linda Stainton as Mistress Quickly with Pietro Desiderio as Sir John Falstaff, (right) Paul Newton (standing) as Worm Your Honour with Pietro Desiderio as Sir John.