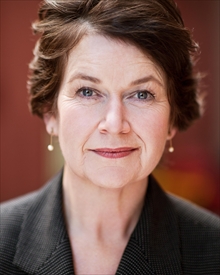 FIONA PRESS
Fiona began her life in theatre at the Q in Penrith, in 1978, studying under Richard Brooks, being mentored by Doreen Warburton and experiencing an unofficial 'apprenticeship' in all things theatrical. She continued her acting training at NIDA and since graduating in 1983, has played with most of the major theatre companies across the country in a wide variety of roles in everything from classics to new Australian works and usually as matronly nurses, benevolent judges, nutty vets, weird sisters or nasty publicans but nearly always as somebody's mum.
Fiona has appeared in lots of small film roles in big films, and big roles in small films. Her biggest roles in her biggest films: she won the 1991 AFI Best Supporting Actress award for her work in Waiting, and enjoyed playing opposite John Malkovich in Disgrace, an adaptation of the great novel by South African J. M. Coetzee.
Recently, on the small screen, Fiona has found herself specializing in authority figures - judges, school principals, doctors - with a small sideline in dowdy housekeepers and Machiavellian politicians. She has a regular role in the new ABC/Matchbox television series The Heights (a publican!).
Fiona has been a proud member of Actor's Equity since 1983 and serves on the National Performers Committee, alongside teaching acting, writing and producing projects, and script development work.
The friendships, the collegial ethic and creative practices that formed at her time with the Q continue to be the cornerstone of her working life to this day. Fiona is privileged to sustain this continuum of generations of Western Sydney theatre-making by being patron of the Acting Factory.
LEONE SHARP
Leone commenced her theatre design career at the Q Theatre, Penrith over 40 years ago, designing productions for Managing Director Doreen Warburton and Artistic Directors Richard Brooks, Arthur Dicks and Kevin Jackson.
Through the generosity of the Q and patrons she studied stage and costume design at Croydon College of the Arts, London where she met mentor and friend, world renowned ballet/theatre designer Nadine Baylis. A highlight for her was working with Nadine and the Ballet Rambert on a new work for the Edinburgh Festival. As her research and design assistant Leone travelled with Nadine, working throughout the United Kingdom, Europe and Canada before returning to Australia where she continued her work with the Q and other independent Sydney based companies.
Today, Leone still resides in Western Sydney and designs for a variety of 'profit share' and community-based theatre groups, including The Acting Factory. She is a firm believer in 'giving back' and for most productions she mentors a high school student who wants to learn the design craft. As patron she regularly loans costumes from her collection to support the work of The Acting Factory.