"The Popular Mechanicals"
by William Shakespeare, Keith Robinson and Tony Taylor was performed at the Q Theatre, Railway St, Penrith from December 13 to 22, 2002.
Director: Lenny Kovner
Musical Director: Elizabeth Ward
Assistant Director: Charles Hegyi
Set Design: Lenny Kovner, Michael Burge
Production Manager/Set Construction: David Hoey
Lighting Design Consultant: Peter Hazell
Stage Manager: Kate Leader
Light/Sound: Sherreen Hennessy
Costumes: Angela Tivadar
Nick Bottom: Andrew Broderick
Peter Quince: Michael Burge
Robin Starveling: Pietro Desiderio
Francis Flute: Charles Hegyi
Tom Snout: Amber Kenny
Snug: Linda Stainton
'GIVING SHAKESPEARE A WEDGIE!'
Take six clowns, a chorus line of rubber chickens, one donkey, a liberal amount of the Bard, a smattering of double entendre, throw it all on a stage and slowly increase the mirth and mayhem. What you get is the Acting Factory Inc.'s latest theatrical offering THE POPULAR MECHANICALS.
Quince, Flute, Bottom, Starvling, Snug & Snout, (the 'Mechanicals' for Shakespeare's A Midsummer Night's Dream) aren't, shall we say 'the crispest chips in the packet!', but what they lack in finesse they generously make up for in buffoonery.
POP MEX, as it is affectionately known, was written by Keith Robinson and Tony Taylor, and was first performed at Belvoir Street Theatre in 1987 under the direction of Geoffrey Rush. "The fictional world of The Popular Mechanicals, is a hybrid one", says Rush,"One leg in the twentieth century and the other in the seventeenth, where starched ruffs nestle against polyester skivvies, gold phones stand near cow-pats, poo jokes share scenes with iambic pentameter. In a yellow world of madness, there is grunge and gloss, like the bit of floor between your stove and your fridge."
For the Acting Factory, it is the ideal choice for their second production. "It's in complete contrast to THE BOYS, which we presented earlier this year.", explains Acting Factory president, David Hoey, "'The Boys' is an awesome play and was a fantastic first production. It was pretty confronting stuff, both to perform and to watch, so we thought it would be a good idea to lighten things up a bit with our second production. THE POPULAR MECHANICALS fit the bill perfectly. We can clown around, have some fun and ham it up big time for a change. It'll be a hoot! Just the ticket for the silly season".
When asked, in an interview, how long he had been rehearsing his cast Lenny Kovner, Director of Pop Mex, held up two hands and said "Well, the length of time is about from there to there". Andrew Broderick (who plays Bottom) disagreed saying it was not quite that long.
It is obviously this rapport which the entire cast enjoys and that informs the play.
Buffoonery, having a long tradition in theatre, finds it's most recent lodgings in the Keith Robinson and Tony Taylor script, based on an improvisation directed by Geoffrey Rush. Lenny first saw the play performed fourteen years ago and has "had it (the script) sitting on my shelf for fourteen years waiting for someone to ring me up and ask me to direct it".
A Midsummer Night's Dream, from which the 'Mechanicals' – Bottom, Flute, Snug, Snout, Quince and Starveling – are elevated into their own production, is one of Shakespeare's most enjoyed plays. THE POPULAR MECHANICALS promises more of the story in which they set out to perform a play of their own, being no more to begin with than tradesmen and labourers. Their trials and tribulations, this struggle, sets the stage for hysterical accidents, mistaken events and as Lenny and Andrew agreed, fart jokes.
Said Lenny, "This is just about the best Australian play ever written. It works on all levels for audiences of all ages and of all backgrounds. It is one of the funniest, most rip-roaring plays I've ever seen and, like Andrew says, it's guaranteed to be a great night out!". Andrew claims it beats a night watching TV or even one spent at your local club. Younger and school-aged audiences will find it an enjoyable tribute to Shakespeare.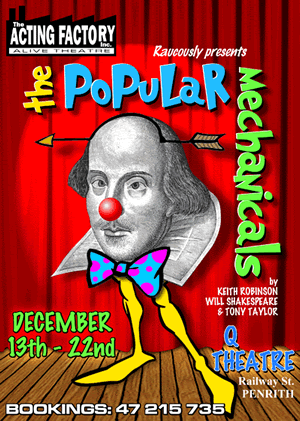 Graphic Design by David Hoey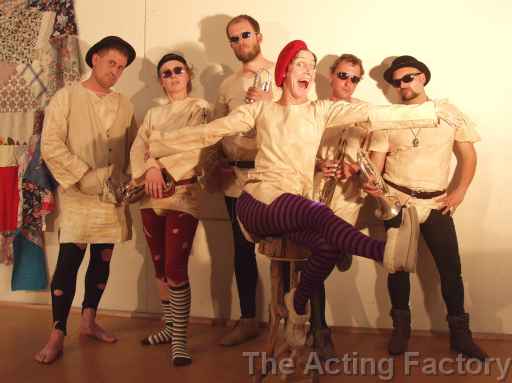 Andrew Broderick as Bottom, Amber Kenny as Tom Snout, Michael Burge as Peter Quince, Linda Stainton as Snug, Charles Hegyi as Francis Flute and Pietro Desiderio as Robin Starveling.
Michael Burge as Peter Quince and Andrew Broderick as Bottom
Photo's by Trevor Connell