The Taming of the Shrew
by William Shakespeare, was performed at Regatta Park, Penrith, from February 26 to March 20, 2005
Director: Sherreen Hennessy
Stage Manager: Chris Harding
Assistant Stage Manager: Lisa Celli
Stage Hands: Daniel Holloway, Krystal Shuttleworth, Nicole Madden Kieran Daughton, Mitchell Rist
Light & Sound Operator: Sherreen Hennessy
Production Coordinator/Location Manager: Brett Jeffers
Design Consultant: Leone Sharp
Wardrobe Coordinator: Pat Trewin
Makeup Consultant: B.J. Weule
Fight Choreography: Catherine Lockley
Latin Translations: Arthur Lockley
Front-of-House Manager: Lisa Larson
Front of House: Linda Stainton, Lynda Henderson, Cara Toscan, Tim Hardy, Eleonora Carbone, Winsome Barker Kelsie Navin
Petruchio: Michael Burge
Katherina Minola: Gabrielle Decelis
Baptista Minola: Catherine Lockley
Bianca Minola: Lara Carbone
Signior Hortensio (suitor to BIANCA): David B. Fowler
Signior Gremio (Suitor to BIANCA): Matt Perriman
Signior Lucentio (suitor to BIANCA): Andrew Sheehan
Tranio (Servant to LUCENTIO): Phillip Gallop
Biondello (Servant to LUCENTIO): Sean McKenzie
Vincentio (Father to Lucentio): David Attrill
Grumio (Manservant to PETRUCHIO): Andrew Broderick
A Pedant: Rhonda Hancock
Curtis (Servant to PETRUCHIO):Daniel Holloway
Chorus/ Servant to PETRUCHIO: Krystal Shuttleworth
Chorus/ Servant to PETRUCHIO: Nicole Madden
Chorus/ Servant to PETRUCHIO: Kieran Daughton
Chorus/ Servant to PETRUCHIO: Mitchell Rist
Chorus/A Widow/ Servant to BAPTISTA: Lisa Celli
Outdoor Theatre returns to Penrith in the Acting Factory's annual Shakespeare by the River. This year the Acting Factory is serving up the boisterously funny The Taming of the Shrew.
Last years inaugural twilight performance saw hundreds of theatre goers lazing on the banks of the Nepean River with food and drink whilst the cast of local talent wove Shakespeare's hilarious tale, The Two Gentlemen of Verona, to raucous laughter and heartfelt applause.
Outdoor Theatre, though hardly a new concept, is something that residents of Penrith and its surrounds have been missing out on and the Acting Factory hopes to resurrect this genre with it's annual event. The tradition of theatre in Western Sydney, and in particular Penrith, is immensely strong and the Acting Factory, with it's roots dating back to the original Q Theatre, aims to keep the flame burning with high calibre entertainment from local artists in an audience friendly environment.
"This is a community event" says Director Sherreen Hennessy. Sherreen's experience has seen her running the Acting Factory's Shakespeare workshops classes for the past 2 years and leaves her ably qualified to under take this years event.
Sherreen also received recognition for her directorial skills after last years extremely successful Acting Factory production of The DumbWaiter. The Dumb Waiter and another of Harold Pinter play's, The Lover, were part of a double bill performed at the Q Theatre which was voted Critics Pick of the Week by Stephen Dunne of the Sydney Morning Herald.
This years Shakespeare by the River performance, The Taming of the Shrew, is sure to entertain even the most TV hardened critic. As in most of Shakespeare plays, there is a timeless quality that easily translates into the modern world. In Taming of the Shrew it is the "battle of the sexes". Put a feisty, sharp tongued woman up against a cunning, battle hardened man and you've got fireworks. This play is sure to stir the pot of society gender roles and sexism with its' hilarious wedding scene, the ridiculous plotting of love struck men and a bunch of quick witted women who don't mind "going the knuckle". An hilarious evening is guaranteed.
Bring a chair or blanket and a picnic and sit back and watch the "forsooths" and "alacks" let fly in Regatta Park, River Road, Emu Plains on the banks of the Nepean River.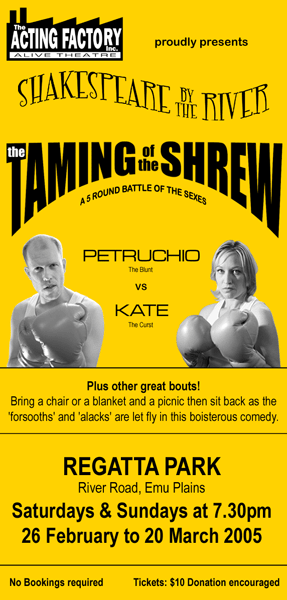 Graphic Design by David Hoey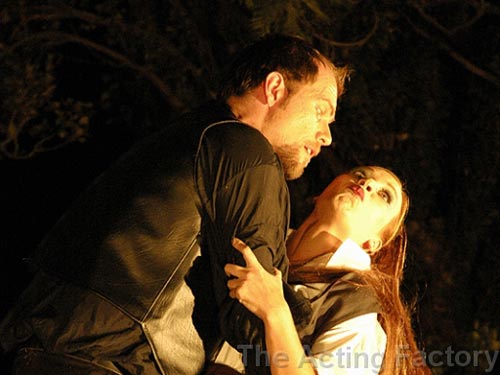 Michael Burge as Petruchio and Gabrielle DeCelis as Kate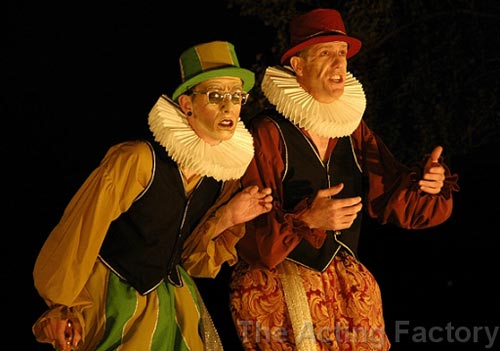 Matthew Perriman as Signior Gremio and David B Fowler as Signior Hortensio