Two Gentlemen of Verona
by William Shakespeare, was performed at Regatta Park, Penrith, from March 13 to April 4, 2004
Director: Charles Hegyi
Stage Manager: Kate Price
Location Manager: Matthew Fortunat
Lighting Design: Peter Hazell
Lighting: David J. Atrill
Lucetta, An Outlaw, Hostess of the Inn: Michelle Adams
Duke of Milan, Launce, Antonio: David Atrill
Proteus: Andrew Broderick
Valentine: David B. Fowler
Speed, Eglamour, An Outlaw: Neil Henderson
Julia, An Outlaw, Sebastian: Lauren McKinnon
Thurio, Panthino, An Outlaw: Wayne Pratt
Silvia, Linda Stainton

Boy meets girl...
Boy's best mate meets girl...
Boy's best mate's girl dresses up as a boy ...
A classic comedy of love, deception, betrayal and cross dressing,
as relevant as the day it was written.
When it was decided that The Acting Factory wanted to present an outdoor Shakespeare performance, both I and Sherreen Hennessy (Director of our Shakespeare workshops) felt that Two Gentlemen of Verona was ideal, and were rather encouraged that we had independently picked the same play!

So, why Two Gents? It is reputedly the first of Shakespeare's to be publically performed, and is sometimes criticised for being less subtle and polished than his later work. This seemed to suit a relaxed outdoor setting, with the usual pleasant distractions of food and drink, nicely. Two Gents is a play that has much to respect in it, but is not to be taken too seriously. The comedy is sharply drawn and almost music hall in style, you can hear echoes bouncing down the centuries to turn up in sitcoms today. Imagine adding a little blank verse to Fawlty Towers and you'll get the idea.

Most importantly, Two Gents is fun. Not only to perform, but to watch.
Charles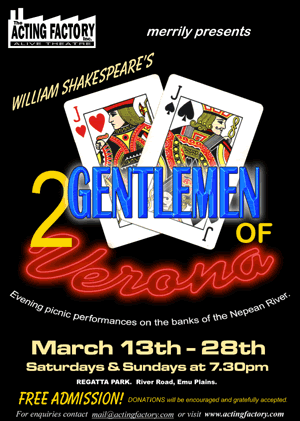 Graphic Design by David Hoey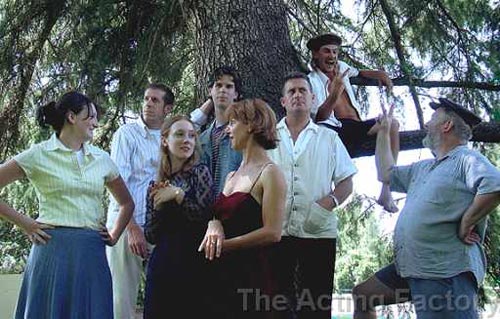 Michelle Adams as Lucetta, David B. Fowler as Valentine, Lauren McKinnon as Julia, Neil Henderson as Speed, Linda Stainton as Silvia, Andrew Broderick as Proteus, Wayne Pratt as Thurio and David Atrill as Launce.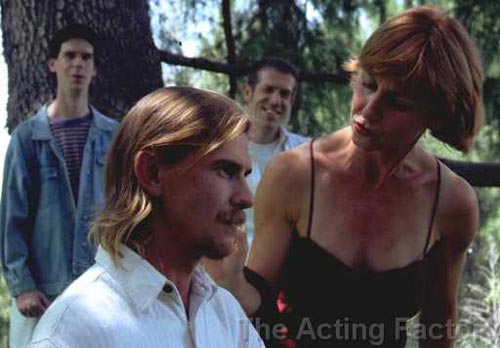 Speed, Thurio, Valentino and Silvia.